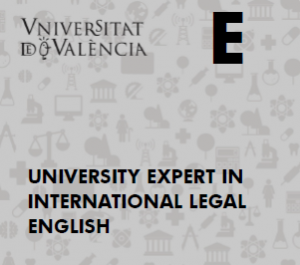 Horario: viernes de 16:00 a 20:00 horas.
Lugar de Impartición: Facultat de Filologia, Traducció i Comunicació. Avda. Blasco Ibáñez, 32, València, y Aula
Virtual.
Duración: De noviembre de 2019 a julio de 2020.
Matrícula: 750,00 euros. (Importe precio público. La tasa de expedición de Títulos y Certificados no está incluida).
Geared Towards
University graduate or postgraduate students. Final-year students (4th year) who have met 90% of the requirements for their degrees (e.g. 216/240 ECTS, in the case of a 4-year degree). B1+ level of English (intermediate) required.
Candidates who are not able to provide evidence of at least B1-level language skills in the working language of ILEX will be asked to sit for a placement test before registration.
Objectives
The processes of globalization and the metamorphosis of English as the lingua franca of international trade have meant that both the legal and international relations sectors now require a labor force with a high level of linguistic competence in professional English. International certification in the area of legal English also demands highly specialized and individualized training. UVEG's University Expert In International Legal English (ILEX) aims to fill the existing void in the teaching of the type of language a lawyer needs, in order to develop strong professional skills in the main areas of legal English: civil law, commercial law, banking, and finance law, competition law, transnational law, real estate law, IPL, etc. In addition, ILEX will help prepare for the inter-national certification TOLES (Test of Legal English Skills, International Division of the Law Society of England and Wales) a test recognized as proof of legal English skills by the major law firms, corporations, and international organizations. ILEX is also particularly valuable for Master's (and final-year) students, who meet admission requirements, in the areas of law, economy, translation and English studies. Finally, this postgraduate degree will also prove instrumental for those preparing for the English language tests in competitions launched by the Central State Administration, Regional Governments, Local Administrations, Autonomous Agencies, European Union, etc
Subjects and Syllabi
1. INTRODUCTION AND COMPANY LAW
1.1 Common Law.
1.2 Company formation and management.
1.3 Capitalization.
1.4 Mergers and acquisitions.
2. CONTRACTS AND LABOUR LAW
2.1 Contract law.
2.2 Employment law.
3. SALE OF GOODS, REAL PROPERTY LAW, AND INTELLECTUAL PROPERTY LAW
3.1 Sale of goods.
3.2 House sales and residential leases.
3.3 Copyright, trademarks and patents.
4. NEGOTIABLE INSTRUMENTS, SECURED TRANSACTIONS, DEBTORS AND CREDITORS
4.1 Guarantees.
4.2 Securities.
4.3 Cheques.
4.4 Promissory notes (IOUs).
4.5 Insolvency.
5. COMPETITION LAW. TRANSNATIONAL COMMERCIAL LAW
5.1 Merger control.
5.2 Monopolies.
5.3 Cross-border disputes.
5.4 ADR.
Para más información, entrad en el siguiente enlace.